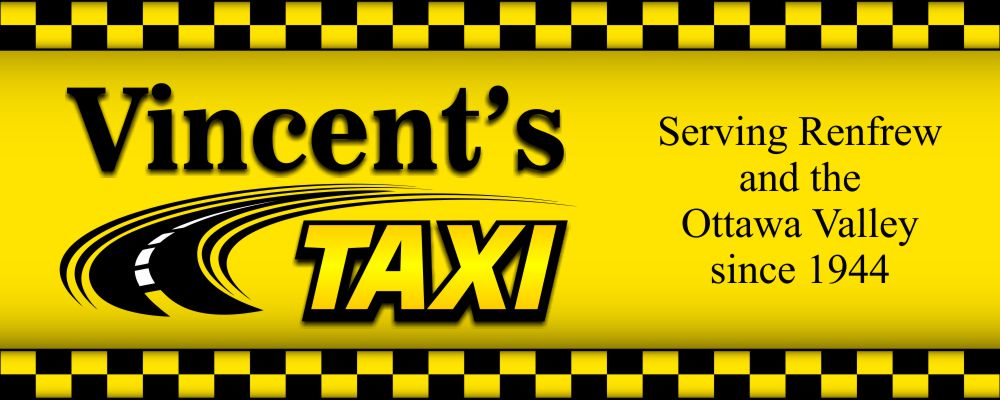 Welcome to Vincent's Taxi!

We're a third-generation family-owned business
geared towards helping you get around
Renfrew and the Ottawa Valley.
Be sure to contact us whenever you need a ride!
Call us at: 613.432.2921
Or Toll-free at: 1-800-207-6279
Or Email us by clicking: info@vincentstaxi.ca
Check-out our new 14 Passenger Limousine!

Ideal for Wedding Packages, Bachelorette and Bacholer Parties, Proms, Birthdays,
Concerts, Shuttles, Sporting Events and Corporate Hosting.
Our Rates

$7.00 flat rate within town limits.
All out-of-town rates will be custom quoted depending on destination.

Our Services

We will take you anywhere you would like to go, including the airport, train station, local towns, Ottawa and so forth.
Our 10 cars are fully licensed and fully insured, and they are also available on a stand-by basis for get together's, outings, special events and Christmas parties.
Vincent's Taxi is currently under contracts with local schools, Ontario Works, WSIB, Children's Aid. ODSB, hospitals and numerous other companies.

Our Hours

Monday through Saturday
6:30 am to 11:00 pm

Sundays and Holidays
7:00 am to 9:00 pm

Closed Christmas Day
Special arrangements for after-hour bookings can be made

We're located at 61 Barry Avenue, Renfrew, ON K7V 3N9
Please send all mail to: PO Box 1031, Renfrew, ON K7V 4H4
Copyright © 2016